(BEING CONTINUED FROM 11/11/11)
A Hellenistic astrologer's board from Croatia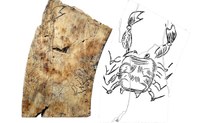 Sector for the zodiacal sign Cancer from the Nakovana Astrologer's Board
In a paper just published in the Journal for the History of Astronomy, Stašo Forenbaher (Institute for Anthropological Research, Zagreb) and Alexander Jones (ISAW) announce the discovery of ivory fragments of a Hellenistic astrologer's board in a part of a cave in southern Croatia that was sealed off towards the end of the first century BCE after having served as a cultic sanctuary. The board, which an astrologer would have used to display to his client the arrangement of heavenly bodies in a horoscope, is the oldest such object known to exist. It witnesses the rapid spread of Greek horoscopic astrology, which came into existence as a fusion of Mesopotamian and Egyptian astral divination with Greek cosmology probably not long before 100 BCE.
Nakovana Cave overlooks the Adriatic Sea from a ridge near the western tip of Pelješac Peninsula, 100 kilometers northwest of Dubrovnik. Some of the most important Adriatic sea-lines of antiquity pass through the channels below the cave. The Nakovana Project (directed by Timothy Kaiser and Stašo Forenbaher) began work at the cave in 1999, and towards the end of the field season a hitherto unknown extension of the cave was discovered. Fragments of pottery vessels were lying about, most of them Hellenistic finewares datable to the last four centuries BCE, evidently the accumulated remains from cult offerings. The ivory fragments were discovered among this material.
When complete, the board had twelve arc-shaped ivory plates forming a complete circle and representing the twelve signs of the zodiac. An astrologer would have displayed a horoscope by placing colored stones standing for the Sun, Moon, and planets in the places they occupied in the zodiac on a particular date, for example a client's birthdate. It is not clear whether the board was actually used where its remains were found in Nakovana cave or whether it was deposited there as a precious offering.
Archaeology Volunteers in Romania
In Romania, volunteers on the archaeology project are based in various locations, although the main base will be Deva, a city with 80,000 inhabitants. In ancient times, Deva was a Dacian fortress called Decidava. Nowadays, it is the capital city of the Hunedoara district, an area with an extensive and fascinating history.
Volunteers work with a number of archaeological groups, including Romania's Museum of History where they investigate ancient Dacia and the medieval environs of Transylvania. Archaeological sites found in the Carpathian Mountains and plains below have already yielded some remarkable information about the time of the infamous Vlad-the-Impaler, the supposed inspiration for the Dracula legend.
Our Archaeology placements are a great way to learn about civilizations that have long since disappeared. Through clues, investigations and practical research, you can attempt to reconstruct many aspects about their way of life while collaborating with some of the best specialists in the periods from Neolithic to Medieval times.
By taking part in volunteer archaeological work in Romania you will gain hands on experience of archaeology and learn many practical skills relevant within this field. The range of work is diverse — volunteers work on excavation and restoration sites all over Romania. At the beautiful sites of Deva, Alba-Iulia, Bordusani-Popina, and Harsova, volunteers excavate, clean and reconstruct pottery pieces, tools or other items that have been found there.
Other work includes identifying and uncovering ancient graves as well as recovering bones and other artifacts in Sibiu; compiling reports on the several fortified Saxon churches in the region of Transylvania; and studying the gardens and dig site of the Brukenthal Summer Palace in Avrig.
Archaeology Expeditions in Romania
Volunteers have the opportunity to carry out fieldwork, either working on digs or helping with reconstruction or ceramic work.
Alongside the practical work, volunteers write up documents and reports concerning the work they are doing, and produce proposals for new sites in the area. These are then presented to potential national and international donors. Volunteers can also spend time in the History Museum in Cluj or Alba Iulia, helping with pottery reconstruction and research.
The volunteers' time is split between site excavation, analysis of finds and museum presentations. Volunteers might also help in the museum itself, translating documents and designing tourist information.
Dependant on the location of the digs, volunteers will be accommodated in a guesthouse in Deva, or may camp, stay in hostels or with local families close to the site if the digs are not within commutable distance. Volunteers will be able to attend monthly social events with the other volunteers in Romania and will be able to travel to Brasov at the weekends.
In order to maintain the focus on practical aspects of archaeology, and to ensure a high level of variety for our volunteers, it is not possible to participate on an archaeology project in Romania during the winter months from November to March. During these months, digs are not possible due to the frozen ground. Volunteers with specific skills or those wishing to focus on a specific research or reconstruction project can still be accommodated during the winter months.
From April through September, the archaeology project is also available for less than a month if you don't have time to join us for a month or more. This project has been selected by our local colleagues as being suitable for short term volunteering for both the host community and the volunteer. Although you will gain a valuable cultural insight and work intensely within the local community please be aware that you may not be able to make the same impact as someone volunteering for a longer period.
Archaeology in Romania
Archaeology is a field-based science, which means that a vital part of the education process involves learning the skills and strategies of surveying and excavation. Any student who wishes to study archaeology to degree level must be prepared to spend a significant period of their time taking part in fieldwork; this includes working on digs, in laboratories and in museums.
To help students and volunteers, a number of fieldwork award schemes are available through various universities and archaeological organizations. For example, the organization Archaeology Abroad offers grants to help towards the cost of archaeological projects overseas.
For more information about the award go to www.britarch.ac.uk/archabroad or click here to apply for the award.
(TO BE CONTINUED)